25 juin 08 - Music > Daft Punk
Un nouvel album des Daft Punk pour bientô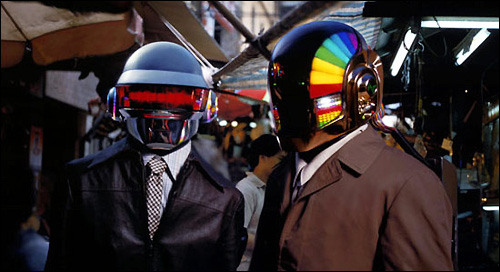 C'est aujourd'hui officiel. Daft punk sort prochainement son nouvel album.

Pedro winter (aka Busy P) l'annonce dans une interview pour le site "in the mix" (interview ci-après). Les daft punk sont retournés en studio le mois dernier.
Busy P a déclaré que l'album serait d'une grande qualité...

Interview (français & english) à  la suite / Busy P interview à la suite...
Interview (English version)
Yes, you read that headline correct! After annihilating Australian audiences late last year on the NeverEverLand tour, everybody s favourite French robots are finally settling down to record more music. ITM got the scoop from someone who would know – their manager for the past 12 years Busy P! Otherwise known as Pedro Winter – the owner of the notorious Ed Banger Records – he was chatting to inthemix about his label s brand new compilation Ed Rec Vol III when he dropped the bomb on Daft Punk s studio plans.
"The boys are in a studio in Paris at the moment," he revealed to ITM. "And I can t wait to listen to their new stuff! The good thing is that they are making music at the moment." While those creative juices are flowing again, it s not known at this stage when the new album might see the light of day. "They are slow, you know," Busy P laughed when asked. "They are taking their time, and they have a right."
Busy P also revealed that he recently decided to step down from the massive task of managing Daft Punk in order to allow him to focus all his energies on the Ed Banger record label. "I ve stopped working with them really recently, because I want to focus and concentrate on Ed Banger and my artists, and my own career as Busy P." But after managing Daft Punk for 12 years, it s a safe bet that the relationship will continue to be a tight one.
So what sort of sound will we be hearing from Daft Punk? Their last studio release was 2005 s Human After All, for which the duo received something of a critical flogging. It led many to declare them as 'done and dusted , but before long they smashed back with their world-beating live show, debuted at Coachella in 2006. Who knows: maybe we ll be treated to something as massive and influential as their debut Homework and its flawless follow-up Discovery? The possibilities are endless.
Interview (Version française)
C est le site web In The Mix qui l a révélé, notre duo post-atomique national Daft Punk est enfin de retour en studio pour offrir un successeur à  leur « Human After All » de 2005. Dans le mème temps, le fameux Pedro Winter qui manageait le groupe depuis 12 ans renonce à  cette responsabilité pour mieux se consacrer au label Ed Banger…et à sa propre carrière en tant qu artiste sous le pseudo de Busy.P.
« Les gars sont entrés en studio à  Paris et j ai vraiment hâte d écouter leurs nouveaux titres » a révélé Pedro Winter. Bien entendu aucune date de sortie n est prévue pour le moment. Le bouillant manager a aussi révélé qu il venait de démissionner de ses fonctions de management du groupe pour mieux se consacrer à  leur label Ed Banger. « Je veux pouvoir me concentrer sur le label et ses artistes » a expliqué Pedro, « Je souhaite aussi me consacrer à  ma propre carrière musicale en tant qu artiste sous le nom de Busy P. » Après avoir managé Daft Punk durant 12 années, on peut parier qu il continuera néanmoins à superviser la destinée de son groupe fétiche.
Thanks 2
&
;-)