DJ Food - The Search Engine
C'est le disque de la rentrée chez Ninja Tune ! Un disque d'"ancien"... 11 ans après Kaléidoscope et plusieurs EP, Dj Food, noyau dur du label revient avec un nouvel album. C'est donc avec l impatience du fan que l'on attend ce dernier opus.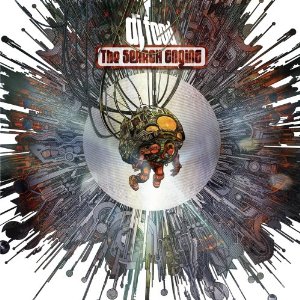 "DJ Food est le nom donné au graphiste de Ninja Tune, auteur de plus de 80% des pochettes du label ainsi que du légendaire logo. Dans les années 90, Stricly Kev prend la place de Coldcut dans le rôle de Dj Food. Il produit de nombreux albums, compilations et mixes, et réalise aussi les shows radios hebdomadaires Solid Steel. 11 ans après leur dernier long format, Stricly Kev et quelques un de ses amis sortent leur nouvel opus, «The Search Engine».
Avec un artwork realisé par Henry Flint (connu pour son travail sur la B.D 2000AD), «The Search Engine» offre le meilleur de la trilogie d'EPs de DJ Food fraîchement sortis, dont le dernier en date, «
Magpies, Maps and Moons
». L'album bénéficie de multiples collaborations. On citera notamment Natural Self (aka Nathaniel Pern), JG Thirlwell (Foetus, Steroid Maximus) et Matt Johnson de The The pour leurs contributions vocales, 2econd Class Citizen et ses samples sur le morceau «
Magpie Music
», Dr Rubberfunk et ses talents de batteur sur le titre d'ouverture, et PC (The Cinematic Orchestra) et DK (Solid Steel) qui ont participé aux mixes de l'album. Fait de rock psychédélique et de samples, «The Search Engine» est un album d'une créativité débridée qui séduira indéniablement."
Voilàvous savez tout ! On peut maintenant passer àl'écoute de plusieurs morceaux de l'album ! Enjoy !
DJ Food - All Covered In Darkness (Parts 1 & 2)
DJ Food - The Illectrik Hoax Ft. Natural Self
DJ Food - Sentinel (Shadow Guard) Featuring DK


DJ Food - 'Prey' feat. J.G. Thirlwell


DJ Food - Colours Beyond Colours


Tracklisting :


01. All Covered In Darkness (Pt.1)
02. GIANT feat. Matt Johnson
03. intermission: a new language
04. The Illectrik Hoax feat. Natural Self
05. Sentinel (Shadow Guard) feat. DK
06. Prey feat. JG Thirlwell
07. In Orbit Every Monday
08. outermission: sheer fiction
09. Percussion Map (Pt.1)
10. Magpie Music feat. 2econd Class Citizen
11. A Trick of the Ear (Album edit)
12. Colours Beyond Colours
13. Beast of Prey *
14. All Covered in Darkness Pt.2 *
* japan-only bonus tracks on Beat Records (2011.12.03 release)



01, 04, 11, 12, 14 originally appeared on the One Man's Weird Is Another Man's World EP
05 and the instrumental version of 02 originally appeared on the The Shape Of Things That Hum EP
06, 07, 09, 10 originally appeared on the Magpies, Maps & Moons EP