Le nouveau The Herbaliser - There Were Seven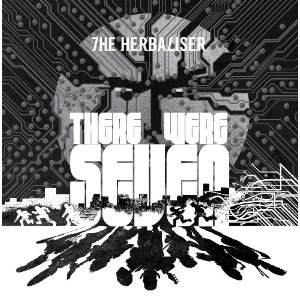 The Herbaliser sont de retour le 8 octobre avec un nouvel album - There Were Seven - forcément attendu !

A noter qu'il ne sortira ni chez Ninja Tune, ni chez K7 mais sur leur propre label, DEPT-H. D'ici là, on devrait avoir quelques EP pour patienter.... Stay Tuned !
[MAJ 30/08/12 : The Herbaliser - The Lost Boy]
Découvrez un premier extrait intitulé Mother Dove àla fin du Solid Steel daté du 28/06/2102.
Tracklist
Danny Red – Rhythm Wise
Witness The Master At Work (Bootleg)
Nicolette – No Government (Shut Up And Dance)
Ll Cool J – I Can t Live Without My Radio (Def Jam)
On My Radio –Beats (Bootleg)
Beastie Boys – Paul Revere (Capital)
Jamming Unit – Bam Bam Dub (Pharma)
Mo Horizons – Yes Baby Yes (Sally Said)
Massive Attack – Blue Lines (Circa)
Mutabaruka – Whey Mi Belong (Alligator)
Sound Dimension – Rockfort Rock (Techniques)
Instituto – Beat Box Samba
Debruit – Akoula (Civil Music)
Dj Diamond – Speakerz 'N Tonguez (Planet Mu Records)
Dj Nate – Footwurk Homicide (Planet Mu Records)
Buzzcocks – Boredom (Independent)
Leroy Parker – Groove With It (Pressure Sounds)
Brentford All Stars – Race Track (Studio One)
Teebs – Jahara (Brainfeeder)
Memory9 Mix
Yukioroshi – Suwa Ikazuchi (Nippon Columbia)
Disrupt – Citadel Station (Jahtari)
Lopez – Ascend To Jah (Dub) (Keep Up!)
Moresounds – Weeds (Cosmic Bridge)
Falty Dl – Can t Stop The Prophet (Ninja Tune)
Walter Carlos – March From "A Clockwork Orange" (Warner)
Romare – Freedom (Aspirations Of A Prisoner) (Black Acre)
Ldfd – Outtacontrol (Daedelus Remix) (Magical Properties)
Krampfhaft – Spit Thunder (Saturate!Records)
Munchi – Paperchase [Cdr]
Rihanna – Umbrella [Def Jam]
Pixelord – Ninja Clown (Deft Remix) [Hyperboloid Records]
The Boredoms – Tilde (Memory9 Rebass) [Dea Japan]
Remarc – R.I.P (Philip D Kick s Footowrk Jungle Edit) [Cdr]
B-Ju – Mia Got A New Haircut (Elan Remix) [Error Broadcast]
Om Unit – Vibrations (Machinedrum Remix) [Civil Music]
Memory9 – One Of These Days (Bobby Tank Remix) [Forthcoming Mnemonic Dojo]
The Naive Machine – Let The Zombies Loose (Self-Released)
Dibiase – Lumberjack (Alpha Pup)
Dimlite – Kurt Feelings (Now Again Records)
Dj Food Mix
Dj Food – The Illectrik Hoax (Amorphous Androgynous Unreleased Basement Jam Version) (Ninja Tune)
2Nd Class Citizen – And Now, Nothing (Equinox)
Gaz Coombes Presents – Hot Fruit (Hot Fruit Records)
Quincey Jones -The Lost Man (Uni Records)
Leonard Nimoy – Reads 'Marionettes Inc . (Caedmon)
David Shire – The Taking Of Pelham 123 (Simply Vinyl)
Cut Chemist – Outro (Revisited) Feat. Blackbird) (A Stable Sound)
The Herbaliser – Mother Dove (Dept. H)
Mister Jason – Mister Jason Has A Posse (Fort Point Recordings)
Dj Format Feat. Mr. Lif – Terror (Project 33)
Sound Sci – In A Flash (Crate Escape)
2Econd Class Citizen – Liberated Lady (Equinox)