Ninja Tune XX Box Set
Pour ses 20 ans, Ninja Tune met le paquet !!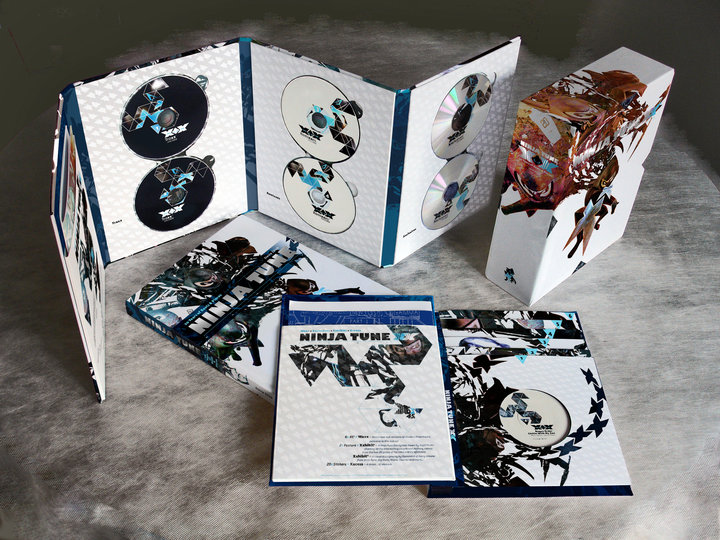 Ninja Tune XX Box Set Out September 20th
ENG : It will include new music from Amon Tobin, Roots Manuva, The Cinematic Orchestra, Kid Koala, Mr Scruff, The Bug, King Geedorah, Zomby, Jaga Jazzist, Bonobo, Toddla T, Daedelus, Dorian Concept, Eskmo, Floating Points, Jammer, Two Fingers, Wagon Christ, The Heavy, cLOUDDEAD and many others. And also include new remixes from Switch, Autechre, Benga, Cut Chemist, Modeselektor, Roots Manuva, Diplo, Gold Panda, Mark Pritchard, Amorphous Androgynous, Rustie, Prefuse 73, 808 State, Tunng, Todd Edwards, Scuba, Joe Goddard, King Jammy, The Orb, Tom Middleton, Micachu, Metronomy, Gaslamp Killer, Kronos Quartet, Dan Le Sac, Mala, El-P (and EL-B) and many more...
Case 1 contains 6 CDs of new exclusive music: 4CDs of which will be released as two stand alone compilations (which will include a few recently released favourites as well as a wealth of exclusives) + 2 CDs of music only available in this box set – i.e. not available digitally or anywhere outside the box set.
Case 2 contains: 6 x 7" singles – all material only available in this box set + an inner pocket with a Ninja family tree poster by Nigel Peake + Sleeve Cover Poster + Ninja Tune XX Sticker Sheet
Case 3 is the exclusive hardback edition of Black Dog Publishing book "NINJA TUNE: 20 Years of Beats & Pieces" by Stevie Chick (hardback edition only available in this box set).
FR :

- Un boîtier contenant 6 CDs de titres inédits, dont 2 CDs exclusifs àce coffret uniquement et non disponible en digital ou hors de ce coffret.

- Un boîtier contenant 6x45 tours de remixes exclusifs àce coffret, ainsi qu'un poster dépeignant l'arbre généalogique de la famille Ninja Tune (réalisée par NIGEL PEAK), une affiche représentant l ensemble des pochettes de label, ainsi qu'une page de stickers Ninja Tune.

- Un troisième boîtier contenant un superbe livre de 192 pages, intitulé NINJA TUNE : 20 Years Of Beats & Pieces de STEVE CHICK (publié aux éditions Black Dog Publishing), et exclusivement disponible dans ce coffret.

- Chaque coffret a un code unique grâce auquel il est possible de recevoir des informations sur les sorties futures du label.