Italians Do It Better - After Dark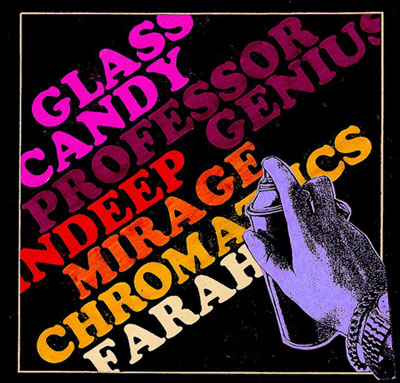 Italians Do It Better, pour ceux qui ne connaissent pas, c'est un peu ce qui se fait de mieux en matière de synth pop et d'electro classieuse.
La bonne nouvelle, c'est que la label vient de mettre àdispo gratuitement leur compilation After Dark, voilàqui risque bien d'agiter votre popotin.
Tracklist

GLASS CANDY "Rolling down the hills" (Demo)
CHROMATICS "Hands in the dark" (Reprise de R.L. Crutchfield's Dark Day)
INDEEP "Last nite a DJ saved my life" (Remix par Mirage)
MIRAGE "Lady operator"
GLASS CANDY "Computer love" (Reprise de Kraftwerk)
PROFESSOR GENIUS "La grotta"
CHROMATICS "Killing spree"
FARAH "Law of life"
CHROMATICS "In the city"
GLASS CANDY "Miss Broadway"
MIRAGE "Lake of dreams"
FARAH "Dancing girls" (Demo)
GLASS CANDY "The chameleon" (Reprise de R.L. Crutchfield's Dark Day)
PROFESSOR GENIUS "Pegaso"