Mr Scruff - 6 hours DJ mix - Band On The Wall, Manchester (May 7th 2011)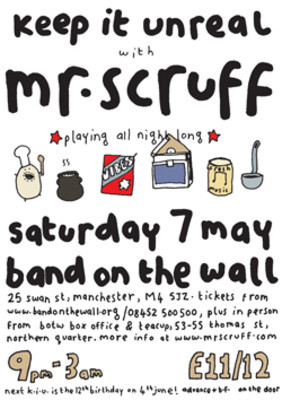 Tracklist :
1. HARRY WHITAKER 'BLACK RENNAISSANCE
2. KELAN PHIL COHRAN & LEGACY 'THEME FROM AFRICAN SKIES
3. SUN RA 'WHERE IS TOMORROW?
4. FATIMA 'INNERVISIONS
5. SADAO WATANABE 'VICHAKANI
6. THE CYRKLE 'THE VISIT (SHE WAS HERE)
7. BATTEAUX 'HIGH TIDE
8. VANESSA SIMON 'BETTER PLACE
9. THE RHYTMAGIC ORCHESTRA 'SAKEENA
10. EDDIE JEFFERSON 'SO WHAT
11. OUTLAW BLUES BAND 'DEEP GULLY
12. HEATWAVE 'AIN T NO HALF STEPPIN
13. ROY AYERS 'EVERYBODY
14. YOLANDA JOHNSON 'INTERVENTION
15. WAGON CHRIST 'RESPECTRUM
16. JEHST 'STARTING OVER
17. OMAS & AVER 'OUT OF TIME (DJ MISCHIEF MIX)
18. MICHI SARMIENTO 'EL SONERITO
19. BANDA LOS HIJOS DE LA NINA LUZ 'QUIERO AMANACER
20. EBO TAYLOR & UHURU-YENZU 'WHAT IS LIFE
21. COLT 45 'THE BOTTLE
22. MARCO 'I M COMING HOME AGAIN
23. DJ KENT '4:21
24. MR. SCRUFF 'GIFFIN
25. TIN MAN 'NONNEO
26. ABACUS 'A PLACE IN TIME
27. TEFLON DONS FEATURING GREGORY PORTER 'TOMORROW PEOPLE
28. AL MCCALL 'HARD TIMES
29. MARCELLUS PITTMAN 'YOU WANT ME (NEVER)
30. MR. SCRUFF 'BOUNCE (DEMO)
31. RICK WILHITE 'IN THE RAIN
32. GLENN UNDERGROUND 'TRIBE OF BENJAMIN
33. OLIVER CHEATHAM 'MAMA SAID
34. STONE 'GIRL I LIKE THE WAY THAT YOU MOVE (DUB MIX)
35. ROYALTY 'ROYALTY
36. VISAGE 'PLEASURE BOYS (DANNY KRIVIT BONUS BEATS)
37. MATERIAL 'OVER & OVER
38. FUNKADELIC 'BETTER BY THE POUND
39. KOOL & THE GANG 'MUSIC IS THE MESSAGE
40. JOHN BLAIR 'J.L. S EGO
41. COATI MUNDI 'ME NO POP I
42. MICHI SARMIENTO 'EL ARRUYO DE MACUYA
43. ORCHESTRA BAOBAB 'SOULEYMANE
44. MILTON NASCIMENTO RAINHAS DO MARACATU
45. RON TRENT 'MORNING FEVER
46. MR. SCRUFF 'FEEL IT (DEMO) 47. MR. SCRUFF 'WOBBLE CONTROL
48. MR. SCRUFF 'WHERE AM I? (DEMO)
49. THE MIDNIGHT EXPRESS SHOW BAND 'DANGER ZONE
50. JACKEY BEAVERS 'MR. BUMP MAN (THEO PARRISH EDIT FROM UGLY EDITS VOL. 11)
51. THE FATBACK BAND 'STREET DANCE
52. TIM STEVENS 'WHO S SIDE ARE YOU ON?
53. OFS UNLIMITED 'MYSTIC
54. THE GLITTER BAND 'MAKES YOU BLIND
55. THE LIGHT OF SABA 'SABEBE
56. NICODEMUS 'IT HAVE TO RAM
57. SCIENTIST 'BELOW THE BELT
58. AFRICA HI-TECH 'CYCLIC SUN
59. ADDISON GROOVE 'IT S GOT ME
60. BOB JAMES 'NAUTILUS
61. JEHST 'STARTING OVER
62. DJ SHADOW 'THE NUMBER SONG (CUT CHEMIST REMIX)
63. LEADERS OF THE UNDERGROUND 'CONNECTIONS
64. MR. SCRUFF & ALICE RUSSELL 'MUSIC TAKES ME UP (NICKODEMUS & ZEB REMIX)
65. RHYTHMAGIC ORCHESTRA 'AFRICAN MAILMAN
66. FLUFFY HUNTER 'WALKING BLUES
67. SLIM GAILLARD 'CHICKEN RHYTHM
68. JOE LUTCHER 'OJAI (ALTERNATE TAKE)
69. SUN RA 'MAKE ANOTHER MISTAKE
70. THE JB S 'SAME BEAT
71. LEFTIES SOUL CONNECTION 'THE CHANK
72. BARE TRAINA & DRS 'DON T WASTE YOUR TIME
73. COLM K 'BASICS
74. THE METERS 'JUST KISSED MY BABY
75. LAUREN HILL 'THE SWEETEST THING
76. MR. SCRUFF VS KIRSTY ALMEIDA 'PICKLED SPIDER