Dj Food - Kraftwerk Kover Kollection Volume 5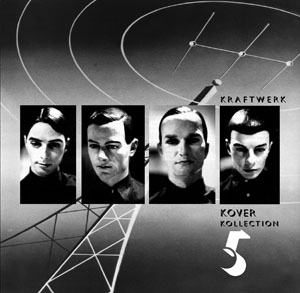 "I do these hour long mixes every year or so featuring cover versions, sample-heavy tracks or songs that obviously owe a debt to the Dusseldorf quartet. Each mix is laced with spoken word, interviews or info about Kraftwerk too. This one is from 14/12/07 and was originally aired on Solid Steel.
I had the idea several years ago and the more I dug, the more I found, the amount of material out there is mind boggling. Not so strange for such an influential band who rarely release new material I suppose, fans have to fill the gap somehow.
I'll be uploading the previous 4 volumes in 2012, Volume 6 is already on here and I have vol.7 planned out and waiting for a gap in the schedule to put together." Dj Food
Tracklist :
Samarkan | Solid Steel Intro
Turf Talk ft. E-40 & Young Mugzi | Do The Robot
Wallenstein | Exis O1 Intro
Kollo | Franz Schubert (Kollo remix)
LCD Soundsystem | Get Innocuous
(Soulwax version)
Bit Weapon | Spacelab
Bubblyfish | It's More Fun To Compute
Death In Vegas | Kontroll
Para One | Showroom Dummies
Crazy Girl | Showroom Dummies
Breakout | Planet Rock (Jazz version)
Kollo | Autobahn (Kollo remix)
Bit Shifter | Antenna
Primal Scream | Autobahn 66
Sany Pitbull | Funk Alemao
Aurelius ft. Ashanti | My Number Babe
Modified Toy Orchestra | Pocket Calculator
Clones | Clones
6Blocc | Digits
Fink | The Model
Terre Thaemlitz | Die Roboter
Kalyanji Anandji | Y.O.G.A.
El Aviador Dro | El Modelo
Fatboy Slim | Radioactivity
Cha Cha 2000 | Autobahn
San Jose Cow Muzak | Autobahn
Case Managers | Autobahn