Nouvel album des Klaxons - Surfing The Void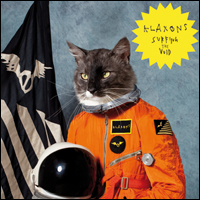 Trois ans après l'explosif "Myths Of The Future", Les Klaxons sont de retour avec un nouvel album !
Les vainqueurs du Mercury Prize ont enregistré "Surfing the Void" àLos Angeles avec le producteur rock américain Ross Robinson (Sepultura, Slipknot, A the Drive In, The Cure).
Il est maintenant temps de passer aux choses sérieuses, rock on !
Klaxons - Surfing The Void, nouvel album le 23 Août - 1er single : Echos, sortie le 16 Août.
En concert àla Cigale (Paris) le 13 septembre.